Managing Risk for Safety and Progress
There are some risks in life that when managed well help us grow, develop, and become more accomplished versions of ourselves. I'll share about such an initiative shortly. But before I get into the 'fun stuff,' I need to raise a risk that has dire consequences if ignored or taken lightly.
The 'Kiss and Drop' zones in our School have been created to keep children safe and provide the optimum conditions for traffic flow during our peak traffic times each morning and afternoon. We are fortunate to have multiple points of access into our campus, meaning the pressure is spread rather than being funnelled into one location like it is in many schools.
Please do not park or leave your car in the designated 'Kiss and Drop' zones at St Andrew's School. When this happens, it has a significant impact on traffic flow during peak times and ultimately compromises the safety of our students. Please take the time to view our Road Safety and Etiquette Map.
This year, we have also engaged with our local Member of Parliament, Lucy Hood MP, Town of Walkerville Mayor Melissa Jones, and the Council's Traffic Consultants, providing feedback and suggested improvements on the roads and traffic movement surrounding St Andrew's School. If we all work together, and honour the rules created to ensure the safety of our students and optimum traffic flow conditions, everyone in our community benefits.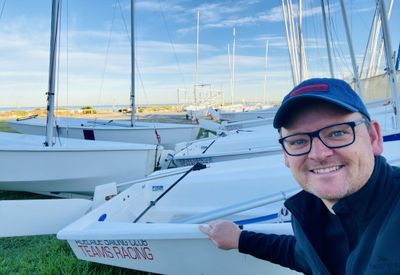 Growing, developing, and becoming more accomplished versions of ourselves is done in many ways. Often, these processes require us to tackle an age-appropriate, rigorously assessed and clearly managed level of risk. In 2024, I am excited to share that we are introducing a 'learn to sail' program for our Year 6 students at St Andrew's School. This year, I have 'put myself through' the sailing course, achieved positive outcomes and developed new skills in a new environment. When I was Director of Junior School at Canberra Girls Grammar School, we introduced sailing to the upper primary program, and it was a grand success. It allowed students to develop a wide range of new skills, including creative problem-solving, high-capacity teamwork, and clear communication, and apply them in an environment that demanded focus, patience, self-awareness, and an understanding of others.
Our PYP Coordinator, Mary-Anne Muhl, new Head of Sport and Experiential Learning, Rowan Miegel, Year 6 teachers and I know that the re-introduction of sailing, after a long period of absence in our School, will benefit all our Year 6 learners in their final year at St Andrew's School.
Luke Ritchie
Principal