Wisdom, Humility, and a Heart for Service
St Andrew's School is proud to be one of Australia's oldest and most prestigious schools. As we know from their recent 175th birthday celebrations, our much-loved School was founded by the St Andrew's Anglican Church, 173 years ago. From our School's commencement, the Church, and its Rector (faith leader) have played a central role in our success and development. From humble beginnings, surrounded by paddocks filled with grazing animals, the Rector and members of the Church have invested in our School with wisdom, humility, and a heart for service.
A man that exemplifies wisdom, humility and a heart for service is the Reverend Sam Goodes. Rev Goodes, who is happily called Sam, has led the St Andrew's Church as Rector for six years. During his tenure, he has also served on the Board of St Andrew's School. Sam recently announced that he has been appointed to the dual role of Archdeacon Assisting the Primate and Archdeacon Assisting the Archbishop. To those not familiar with the organisational structure, roles and responsibilities within the Anglican Church, Sam's new and very senior role positions him in service to the Primate of the Anglican Church of Australia, the Most Reverend Geoffrey Smith, who is also Archbishop of Adelaide. The Primate of the Anglican Church is the most senior Anglican Bishop and leader in Australia. We congratulate Sam on his appointment into this influential new role and know he will flourish.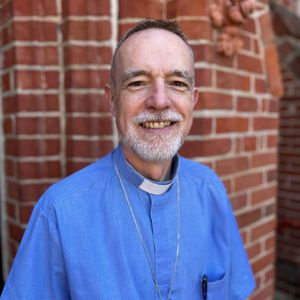 I have loved, genuinely, working with Sam as a Board Member. Sam's eye for detail, commitment to processes, desire for clarity and passionate rigour focused on what is best for our students, staff, and wider community, have inspired and encouraged me.
We wish Sam every success as he finishes his time as Rector and transitions into his new senior role. We will miss you Sam and thank you for your unwavering commitment to St Andrew's School.

Luke Ritchie
Principal